Look deep into nature, and you will
understand everything better.
Welcome to Wadi Rum Travel
As a land full of Biblical, Roman and Arabic stories, Jordan surprises and enchants travelers with its beautiful natural sites such as Petra, the Dead Sea and the desert of Wadi Rum.
Ali, born in the Wadi Rum desert known as the "Valley of the Moon", will guide you through its narrow canyons and help you climb its mountains. You will travel through a landscape of stone and sand that is colored with an ever-changing palette of ochre, pinks and reds, magical moments forever etched in your memory.
Here we present you our camp to stay one or many nights. You are free to disdcover the sites and services at your own pace; on foot, by camel or by jeep. We recommend you spend at least a night in the desert, either camping out in the open or staying in our camp that offers all the amenities. Please do contact us for any further information.
Ali offers many ways to explore the Wadi Rum: hiking, dromedary called 

camel

 by the Bedouin or by 

jeep

.
He can also make you 

climb

 the arches or the mountains, especially the highest, Um Adaami 1854 m at the border of Saudi Arabia.
Located not far from sites to be visited, Ali's camp receives you to cross one or several nights in the desert.
1 day + 1 night
2 days + 1 night
3 days + 2 nights
4 days and more
1 day
1 day + 1 night
2 days + 1 night
more
From 1 day to several days
Mixed with some camel ride
Lawrence of Arabia road
More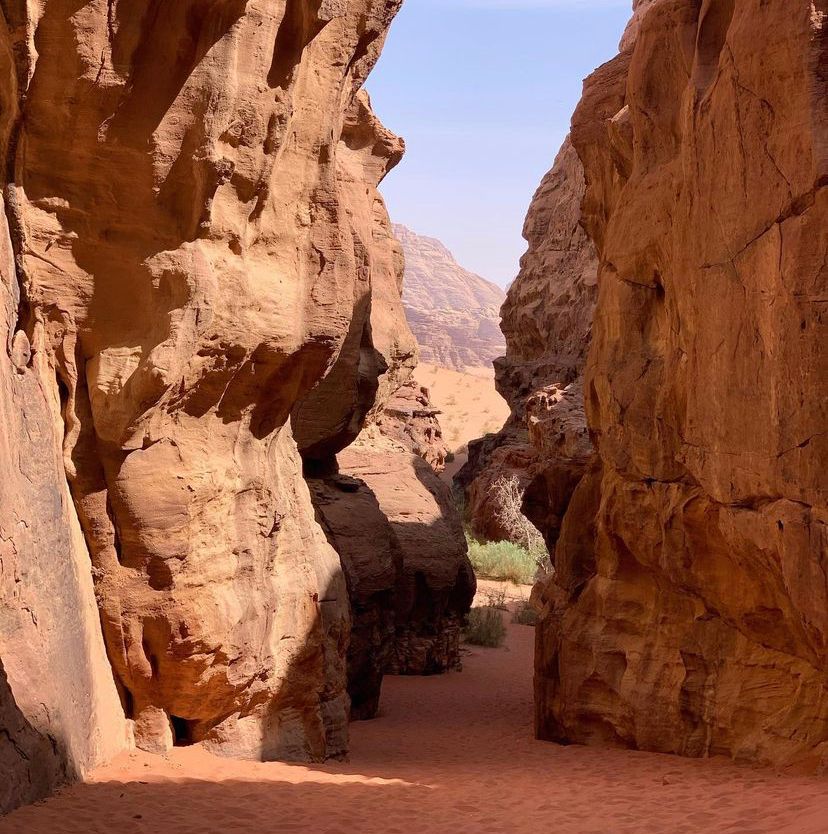 1 day of climbing without a camp
Burdah arch, Jebel Um Ad Dami, Jebel Ash
Compose your own program and contact Ali for pricing details by specifying the desired period and number of visitors.

Constructed in winter 2011/2012 and renovated in the spring of 2019, our camp gives all facilities.
And you will be able to have a rest and take your meals in two big tents which one with wood fire.
Very nice accommodation and great tasty food. The services are fantastic 100% recommended camp. Thank you very much for your great experience

We will recommend you to our friends and... read more family & we We left part of our hearts with you in the desert hope to meet again sometime,

lalouettez


May 19, 2023
Amazing - Amazing experience. Totally recommended. Ali and his brother, along with the rest of the staff, were extremely kind during our stay and we absolutely enjoyed spending this time with them,... read more getting to know the local culture and engaging in amazing activities and tours around the desert, where we had the opportunity to do sandboarding, drive a jeep and visit loads of wonderful breathtaking places. We'll come back for sure!

Traveler45266737815


April 26, 2023
really nice infrastructure specially the eating hall has a natural rock side which looks very photogenic.
Nice Host he helped us a lot to plane the days.
alao everything is... read more their new builded and the food was also Great

G233SAtonih


March 4, 2023
I keep coming back to this camp as I love everything about it: kind and friendly hosts; beautiful location; reasonable prices; great selection of tours with an option to do... read more horse riding; and it all feels very authentic 🙂 they have built a new tent for guests to eat, socialise, and drink lots of tea by a fire - it's fantastic!

a_angelina92


March 2, 2023
We had an amazing weekend. All the staff were so friendly and welcoming. They helped us out with everything we wanted to do. Felt very genuine. The camp is awesome... read more and has a nice public building where everyone can hang out and the food they cooked was great.

avery_e77


February 18, 2023
I ve spent so good time in Wadi Rum. Ali is a great host, he told me a lot about Jordan. The camp is very well locted, with the... read more very good food preapred in traditional way! If you want have a great Beduoin experience come to this place!

Katarzyna W


February 17, 2023